Can I take you to lunch?
Even if your lease isn't due to renew until next year—or in five years—there may be ways that you could be saving money on pass-through expenses and other related costs.
With this in mind, I'm extending an invitation to all of my existing and prospective clients:* let me take you out to lunch and you can take away my comprehensive office lease analysis highlighting potential savings for you and your firm.
Regardless of when your lease expires, here's what I know for sure:
If you're running your firm, you probably have painfully little time to plan or think about your lease.
If someone like me hasn't thoroughly reviewed your lease or your landlord's pass-through bills, you're probably leaving thousands of dollars in your landlord's hands.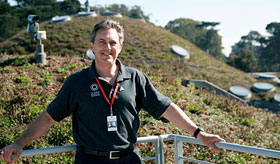 Dan Mihalovich, Green Building Guide at the California Academy of Sciences.
Mihalovich Partners represented the California Academy of Sciences
, negotiating the lease for their 204,000 square foot temporary home at 875 Howard Street—the largest lease in San Francisco in 2003 and probably the most complex, to date.
Entertain my invitation and I'll give you a very quick, valuable—and confidential—assessment about your leasing situation, including a comprehensive review of all of your lease provisions as well as your landlord's previous three to five years of escalation bills.
My analysis will immediately highlight potential savings and will begin to assist you with a master plan for your upcoming renewal, early renegotiation or relocation. If you find our lunch and follow up discussion fruitful, you can engage me to exclusively represent your interests going forward, while avoiding any future revolving-door, impersonal and unsatisfying, one-hour "beauty contest" interviews amongst brokers you know nothing about.
But why should you trust me to review your lease?
Check your calendar for a date that works for you, be sure to make your lease and landlord-invoice documents available to me a week in advance, and I'll pick a great lunch spot in your neighborhood where we can meet and review my findings and recommendations.
Are you free a week from Thursday? Give me a call…