Market Insight: Guest Articles Managing Change: Improving Facilities Without Losing Your Mojo by J. Edgar Fennie Jr. AIA
Co founder FENNIE+MEHL Architects
November 2012
Many organizations are beginning to understand the strong linkage between their facilities, their employees and productivity. It is becoming clear that where you work directly affects how you work, and in particular how you feel when you are in that work place has a big influence on how creative and productive you will be. The big word these days is collaboration, and many organizations are experimenting with different furniture systems, room layouts, room outfitting and multimedia installations to drive up collaboration to speed product design cycles and improve communication. And all of this is a very good trend for businesses and if done right, it will give them a leg up on the competition. But how these changes are planned, implemented, and most importantly, communicated to employees can make or break the project.
Modifying a corporate facility in such a way that will dramatically affect a company's culture and ultimately its bottom line is not to be taken lightly. In fact, if the change is planned with a reasonable timeline and deployment strategy, and it is properly socialized it can energize productivity and be embraced throughout the organization.
Change is not always easy and its effects are far-reaching, so it must be actively managed and a proactive strategy formulated (e.g., regular meetings, firm-wide communiques, real feedback mechanisms, etc.) for how the change will be integrated into the company's cultural and political environment.
In order for big changes to be successful, they foremost must be embraced and popularized by the highest levels of management, starting with the C-Staff, and the changes must be presented by them in a way that the changes are perceived as an overall net gain, and that the benefits will be concrete and measurable for all staff (e.g., no winners or losers).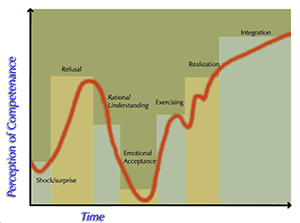 The project team needs to understand that for most people dramatic change triggers fears, and assuage them with as much information as possible so that the surprises are minimized and stress about the change is reduced. In order for staff to make it though this anxiety inducing period they typically go through what researchers have identified as the seven stages of change. These stages are typically identified as Surprise or Shock, Refusal, Rationalization or understanding, Acceptance, Exercising, Realization and finally Integration. How fast a person proceeds though these phases is a function of their relative feelings of self assurance or security. Mangers have to be aware of how of their team members are proceeding through the phases and help those who are getting stuck by meeting with staff and working through particular problems and perhaps reaching out for other resources from HR or other sources within the organization.
We believe you will benefit most if early on in the process you can identify champions and evangelizers for change within the organization, and make them part of the project development process. And they in turn are encouraged to interface regularly with staff at all levels vertically in the organization and with department representatives so that all voices are heard. It is extremely important that for staff to understand that the communication channels are truly two-way, and their opinions and contributions are taken into consideration and balanced against the overall objectives. The important most aspect is that as many staff as possible feel a sense of ownership for the change.
Designers by their very nature are agents of change and are key players in initializing the change process. So working with your architect and designers to identify the benefits and potential issues will help lay the groundwork for a change management plan. As designers they are best at the physical aspects of the project and their effectiveness at integrating the new design aspects of the facility into the culture and behaviors of the staff begins to wane as the change moves from a design scheme into the realm of the social fabric in the organization.
At this point we recommend that a firm reach out to any number of third-party change consultants who are better equipped to take design and work within the organization to ensure that the changes are accepted and leveraged to create the desired effects. Your architect and designers should work with them intensely early on in the design process and then throughout the development of the project, so that impacts are understood well ahead of implementation and communicated throughout the organization, from design though move-in and after. The change management consultant will then monitor and report on the process by meeting regularly with senior executives, department heads, and key managers so that the change is success and the improvements to collaboration, communication, and productivity are all realized from the process.
Change is inevitable and desirable for companies that are adapting to the ever-changing proclivities of the market. But it can be resisted and thwarted by staff unless it is actively managed so that the transitions are smooth and desired results are realized. Firms that understand the ripple effects of change in their firm (good and bad) and get out in front of the change, manage the process will reap the benefits that will go directly to the bottomline.