Market Insight Editorial & Advice to Tenants: 1Q2004
In this Issue:
Editorial from Dan Mihalovich, Principal of Mihalovich Partners and Founder of The Space Place®
$ubleases $teal the $how. Direct Space Goes Begging.
Editorial from Dan Mihalovich, Principal of Mihalovich Partners and Founder of The Space Place®
In the Crosshairs
If you're feeling queasy lately, you're not alone. The daily media poundings are hard to shut out, seemingly every broadcast focusing on terrorism and terrorist activities—past, present and anticipated. We are in the crosshairs of a staggering economy and political witch hunts to lay blame on those responsible for 9-11, a $500+ Billion deficit, joblessness, the War, and the soaring price of gasoline. Here in California, voters (for the first time in history) swallowed a poison pill and supported The Terminator's $15 billion debt-bailout bond, and are slowly feeling the price tag: drastic cuts in school funding; school and program closures; cuts in social programs and jobs; police and fire department closures; and scores of municipal infrastructure cutbacks. The University of California just turned away 7,600 qualified applicants.
We listen to our Senators and Congressmen, to our President and White House officials. We anxiously await Government and Senate investigative reports; and testimony from Alan Greenspan, looking for signs of "The Recovery". But can and should we believe differently from what we see firsthand? This election year, and its circus of multi-million dollar ads, are polarizing people further. Are we "winning" The War, or is there no winning position? Are we sending in more troops, or are we pulling out sometime in 2005? 2006? Are we still in a Recession, or are we to subscribe to the White House and Wall Street view? What about the 308,000 "new jobs" reported recently. Who authors those reports and how many were "temp" jobs? When do we get the straight story on all of this? When it's too late, evidently, or perhaps never.
Dear Mayor Newsom
In San Francisco, our new man on the job, Mayor Gavin Newsom, has been found guilty of straight talk, announcing our $352 million deficit on a budget of $1.2 billion—and his intention to take it on full bore. Like us, though, he doesn't sugar coat issues and has forewarned all supporters that he may not be popular for long. Jobs will be cut, but have not been formally announced yet. Everything in the budget is being scrutinized, and "quality control" is taking on a new, positive meaning under his regime. Herein lies the challenge: Produce your way out of an enormous financial hole, while sweet-talking Business into expanding operations into San Francisco—or preventing companies from fleeing the City to other parts of the State where housing and labor costs are far more reasonable. Homelessness remains the Mayor's #1 concern, since San Francisco has more than 9,000 benefit recipients—each taking home $410/month. According to Newsom, San Francisco experiences more deaths to homelessness than New York, Chicago and Philadelphia—all combined. It is difficult to envision a burgeoning environment under the present economic turmoil.
The Mayor's Tax Assessor, Mable Teng, let loose an appeal of her own to those who hold commercial buildings valued at $50 million or greater. The cause celebrè? Help San Francisco maintain its level of services…by withdrawing applications to reduce property taxes—applications which are, of course, founded on (Prop 13) the notion that building owners have actually lost value during the past several years of economic decline. The Assessor's letter reminds building owners of their hay-days (those who actually made money during, and kept it after, somehow, the dot-com boom). If you thrived back then, the Assessor is requesting a "gesture of goodwill" to give something back to your community now, when they really need your tax revenues most. We anticipate thumbed-noses across the board, but will be pleased to report any philanthropic landlords.
Market Call, 2004. Tenants Command.
Finally, we take a break from the pandemonium to focus our attention on local, San Francisco Bay Area commercial real estate activity, or lack thereof. Our news pales in comparison, but at least we are in touch with "the man on the street" and tie together the notion that business decisions evolve from our expectations and view of the present and future. We specialize in representing tenants, only. And we make it our business to understand the landlord's plight. We extract concessions for you, our tenant-clients. When we negotiate with a landlord, they are hard pressed to dispute the naked truth: There is no recovery in sight.
Last quarter, we made our prognostications for 2004—and nothing has transpired to change our minds:
2004 will be a year of more juggling. Tenants fortunate enough to be active at this time will remain opportunistic, leveraging all of their options until the most aggressive landlord or sublessor puts out the sweetest enticements. Landlords will have to devote greater energies and concessions to renew tenants early - perhaps long before those tenants begin their first negotiation with another landlord. The average downtime (marketing time) for space in San Francisco is 14-16 months. If your landlord isn't factoring that inevitability into your renewal negotiations, on top of other concessions, you're working with the wrong tenant rep broker.

We have a lot to be thankful for, but frankly remain tenuous as ever about the economy. We are not encouraging clients to lease any more space than absolutely necessary, unless there are compelling landlord concessions to offset the risk entirely. For those companies and firms who have tenure in their respective fields, this is a perfect time to lock in long-term rental rates, expansion/contraction options, and negotiate very favorable lease documents. Remember, our job (and yours) is not complete when a Letter of Intent is signed; the work continues through lease documentation (and beyond) to ensure that the scores of other issues in the lease are crafted to protect and enhance your interests. Be prepared with back-up alternatives if/when your landlord of choice gets heavy-handed during lease documentation. The markets will support you. We're here to help you, always with the tenant's interest in mind.

We are in discussions with prospective new clients, whose leases do not expire until 2004, 2005, and 2006. Each party has its own collection of issues; none, however, are "locked" out of the current marketplace. We provide personal attention (with 25 years of business experience—21 years representing tenants in San Francisco, I commit my time to all of a small number of transactions we work on each year). We listen. We ask questions and bring together the proper Team members (architects, contractors, engineers, real estate lawyers, telecom and moving consultants, etc.) to create a strategy and budget to address our client's specific needs. We provide objective advice, on all fronts, to maximize our client's position. We lead the Team through the entire organizational process, managing the tenant-leasing project and conducting all negotiations with all landlords or sublessors. At Mihalovich Partners, we live in a conflict-free environment. We NEVER represent landlords. If you would like to join us at our offices for an intimate and productive working session to review your firm's situation, please give us a call. We're conveniently located on Montgomery Street, between Clay and Washington.
Dan Mihalovich (dan@TheSpacePlace.net)
Principal of Mihalovich Partners and Founder of The Space Place®
$ubleases $teal the $how. Direct Space Goes Begging.
In our previous analyses, we pointed out a number of basic supply-demand market dynamics—which have been effectively playing out this past quarter:
Our markets "work". That is, given time, all free markets seek their own equilibrium. The driving force, pressuring rental rates in our super-saturated office markets, has been the sublease market—the market controlled by the weaker of two entities controlling space, tenants! Tenants have been deeply discounting their excess space to get it off their books, presenting great opportunities for incoming subtenants—or, for landlords to cooperate in wrapping those subleases into new direct leases.

CONCLUSION: Total net absorption of space in 1Q, '04 in San Francisco was on the positive side, at 177,000 square feet—BUT Sublease net absorption was 512,000 square feet. Pricing of space, as you can see from the chart below, clearly indicates (in every Bay Area market) the deep discounts associated with sublease space. Sublease space is where the action has been, to the exclusion of landlords' direct space. Direct space absorption—in EVERY Bay Area market-was negative (less than zero growth). San Francisco landlords were 334,000 square feet in the red, in 1Q; more than 1 million (!) square feet in the red throughout the Bay Area.

Pricing in demand; a tough job in tough times. In a market where the average space sits vacant for 14-16 months before it's leased, what function can the market provide to literally create demand? How about cheaper rent; higher tenant improvement allowances; free rent; lease assumptions; moving allowances; offering greater flexibility to create expansion, contraction and termination options? Pundits have been arguing that the market "bottom" has occurred, but how can that be true when our local economy doesn't demonstrate material growth? Total net absorption in ALL Bay Area counties (territories comprising 320 million square feet of space) amounted to only 157,000 square feet!

CONCLUSION: Average asking rental rates declined in EVERY Bay Area county in 1Q, '04, with the exception of San Francisco, which rose $0.58/sf/year. We do NOT forecast the beginning of any trend toward higher rates in San Francisco, under present circumstances. Sustained quarter-after-quarter, positive growth will be required before we should expect rental rates to rise in any sector. There is, of course, a torrential flood of hype during this election year about the "recovering" economy—and landlords will jump on that bandwagon. Rental rates are lower, now, than ever in the past 22 years we have represented tenants. Adjusting for inflation, our markets have priced in office space at extremely cheap levels. Market pricing has declined sharply and steadily, for the past 11 straight quarters.

"New" supply outpacing demand. The greatest supply of office space to crush the markets has not come from new development or conversion of buildings. Tenants, themselves, have created the mass of vacancies throughout the Bay Area. Eventually, after the conclusion of a long cycle of corporate, service and manufacturing consolidation, the sublease markets will burn off most of its excesses; landlords will finally renegotiate remaining lease term commitments and convert "stub" terms into longer term, direct deals; or landlords will—especially in the case of good credit tenants with short-terms remaining—milk those leases until the terms expire. The proverbial road will lead to the landlord community controlling more of the open market than (for example) after the dot-com decline. For the time being, though, consolidation continues in the tenant community, and the sublease market—to the chagrin of the landlord community—continues to drag rental rates down.

How much of the total vacancy (both direct and sublease space) is comprised by just sublease space? The answer, 1Q, 2004 vs. 1Q, 2002:

| | 1Q, 2004 | 1Q, 2002 |
| --- | --- | --- |
| San Francisco County | 19% | 36% |
| San Mateo County | 22% | 35% |
| Santa Clara County | 28% | 44% |
| East Bay Counties | 18% | 35% |

Our narrative above, and the chart below, describes absorption of (demand for) space. The total supply of available space in San Francisco, at ~19 million square feet, remains at its highest levels of the previous 11 quarters. Direct vacancy rates have risen each and every quarter during that time. Corresponding to the "burning down" of the sublease supplies, sublease vacancy rates have steadily declined, but nevertheless amount to more than 3.4 million square feet.

CONCLUSION: There is NO RECOVERY evident in any of the San Francisco Bay Area office markets, on a county by county basis. In fact, supplies of space are higher today than in any period during the past three years. Sublease vacancies remain a relative thorn in the side of the landlord community, and pose great economic alternatives to those tenants in the market able to take advantage. Consolidation within the tenant community continues, and the drive to cut costs and boost profitability—the fight to survive—remains a central theme.
Take Me Straight to the Numbers: Rental Rates. Supply/Demand.
Please note: We provide Bay Area market data and analyses for the current year only. To request commercial real estate market data for previous quarters, please contact us.
Who Has the Most Space in San Francisco? Surprise…
When we approach a prospective new tenant client, we tell them that we NEVER represent landlords, always avoiding this conflict of interest. So, which leasing firms do the most landlord representation, and who controls the most space in San Francisco? And, most importantly, would you feel comfortable having them represent YOU?
Below we've surveyed the entire 103 million square foot inventory of San Francisco, and illustrated the companies with the most control of space on the market, the Top 25. You know from our other stats that 19 million square feet is now on the market in San Francisco. The top 3 companies, all office leasing brokerage firms, control over 24% of the City's vacancy, more than Shorenstein (#4); Equity Office Properties (#6), the country's largest REIT; Boston Properties (Embarcadero Center, #7); and more than Hines (#8). Surprised, are you not?
% Market Share
Square Feet
# of Landlords/ Buildings

% refers to the percentage of vacant space under exclusive listing by each company. The accompanying figure is the actual square footage available for lease. We have also noted the number of landlords/buildings represented by each entity.

* denotes listing brokers. All other companies listed are landlordselopers.

1
Cushman & Wakefield of California
13.8%
2,586,992
43
2
The CAC Group
12.6%
2,364,292
59
3
Colliers International
5.2%
984,134
12
4
Shorenstein Realty Services, LLC
5.2%
976,118
72
5
CB Richard Ellis
5.1%
962,903
8
6
Equity Office
4.1%
769,680
6
7
Boston Properties
4.0%
752,931
40
8
Hines
4.0%
749,584
7
9
Grubb & Ellis
3.6%
681,961
57
10
GVA Whitney Cressman
3.1%
585,941
8
11
Starboard TCN Worldwide Real Estate
3.0%
563,798
5
12
Cornish & Carey Commercial -ONCOR International
3.0%
555,944
4
13
BT Commercial Real Estate - NAI
2.6%
489,823
47
14
McCarthy Cook & Co.
2.1%
390,181
96
15
PG&E
1.9%
352,000
4
16
TRI Commercial/ONCOR International
1.8%
341,731
56
17
The Presidio Trust
1.8%
335,756
26
18
Pacific Bell
1.7%
319,278
45
19
Wilson Meany Sullivan LLC
1.6%
303,200
32
20
Blatteis Realty Co. Inc.
1.5%
284,040
7
21
Arroyo & Coates
1.3%
234,822
1
22
Flynn Properties
1.0%
182,455
22
23
Catellus Urban Development Corp.
0.8%
156,534
4
24
Newmark Pacific
0.7%
132,272
53
25
Lowe Enterprises Real Estate Group
0.6%
121,297
35
All Others
13.7%
2,576,605
561
Total
18,754,272
1310
Downtown Bonanza: The California Academy of Sciences Grand Opening, June 19th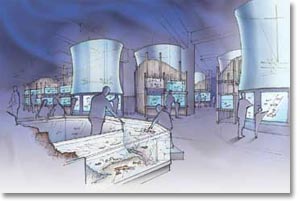 The Aquarium at 875 Howard Street
Mihalovich Partners is extremely proud to have represented The California Academy of Sciences in its negotiations to relocate to a temporary facility at 875 Howard Street, in the Yerba Buena area. The Academy's lease was the largest transaction in San Francisco in 2003, and promises to bring a spectacular community asset to our downtown core. To learn more about the services we provided to the Academy, please call us.
At 875 Howard Street, the Aquarium will house 5,000 live animals, 85% of the current species including penguins, fishes, snakes and frogs from Steinhart Aquarium. The inside-out design will allow visitors to see the mechanisms that power the Aquarium, sense the temperature and salinity of the tank water, feel the dirt in dry habitats and interact with aquatic biologists as they study and care for the animals. The downtown location will also host rotating natural history exhibits, opening with Ants: Hidden Worlds Revealed. Incorporating living specimens, sophisticated technology, and the knowledge of Academy scientists, the intricate society of ants will be examined and explained in this first exhibit.
The Academy will be a unique addition to the wide range of cultural and entertainment attractions serving families in the Yerba Buena Gardens: Zeum, the Children's Garden; the bowling and ice skating center, and the Carousel. Major cultural organizations in the area include Yerba Buena Center for the Arts, SFMOMA, the California Historical Society, Sony Metreon, and the Cartoon Art Museum.
On May 1, 2004, the Academy will be opening for a preview period at 875 Howard Street, between 4th & 5th Street. The Grand Opening will be on June 19, 2004. The new Academy will open in Golden Gate Park in Fall of 2008. For more information about the new Golden Gate Park facility, please click through: http://www.calacademy.org/newacademy/index.php