Market Insight Editorial & Advice to Tenants: 3Q2010
In this Issue:
In Memoriam: Mina Mihalovich (1929 – 2010)
My mother, Mina Mihalovich, passed away in September, 2010.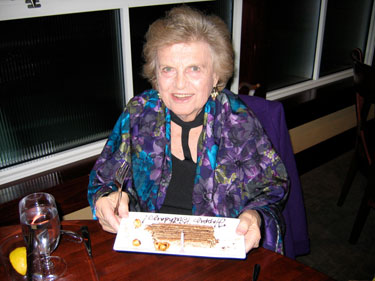 Mina Mihalovich
Mina was born in Istanbul and emigrated to Palestine in 1941. She served in the Israeli Army in 1948 and emigrated to the U.S. in 1950 to attend UC Berkeley. She completed her Bachelor's and Masters of Arts at San Francisco State University ('73 and '76) and devoted herself to a wonderful career, teaching French, Hebrew and ESL in San Francisco high schools and Community colleges. She loved teaching and was loved by her students and fellow faculty members. Mina was a true intellectual, a wonderful conversationalist and thrilled to travel around the world.
Her children and grandchildren were her passion. She showered us with love and advice. She taught us humility, patience and chutzpah. She was tough, heroic through her myriad of illnesses and could handle the best of you at bridge. If you knew Mina, you will never forget her.
Dan Mihalovich
President, Mihalovich Partners
Founder, The Space Place
Charging Batteries in the Holy Land
Call it a sabbatical or just a much needed break from hospital duty in 2010, my wife and I ventured off to Israel for a few weeks. I had not seen that territory in 34 years, since my travel abroad during my Cal days. It was a spectacular journey, epic really.
To the naysayers, Israel was beautiful, much like California in its diversity of geography; safe as ever, unless one goes looking for trouble; and intellectually stimulating throughout with its depth of history—living and dead—everywhere one turns.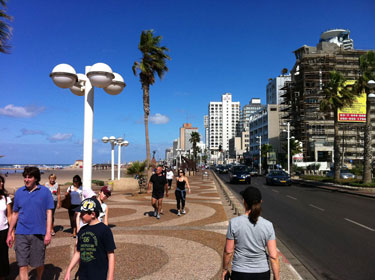 Tel Aviv Promenade
Tel Aviv, our first stop and stay, is all-told a masterpiece of a modern city infused with the throng of Manhattan—but much safer at any hour of the day or night—with countless epicurean surprises, bars, clubs, a knock-out beach promenade and did I mention the surfing?! Tel Aviv simply rocks, at all hours. If you'd like a $5-$10 mil condo in a Four Seasons-style tower overlooking the Mediterranean…help yourself. It's the total package.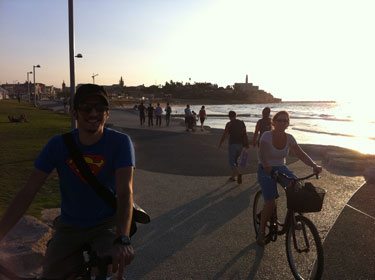 Jaffa - Tel Aviv bike ride
We rented bikes and cruised the promenade along the beach in Tel Aviv all the way to the old city of Jaffa. We took a trusted tip to a dive of a place for a fantastic meal of roasted eggplant, great pita, hummus and kebab…main staples to hold you in between meals. Tel Aviv, like New York, Paris, Rome, Sydney and San Francisco, is a great walking city. Israelis don't just live in the City; they live ON the City, its high energy, its Aroma coffee chain (no Evil Empire), amped nightlife not outdone by SOMA, Soho or The Rocks…all along the beach, a perfect 10.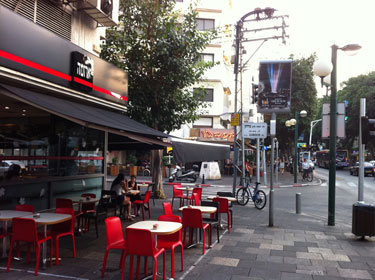 Aroma Coffee Bar (chain) - No Starbucks!
We took Jerusalem by bus, planning to rent a car and hit the road from there. An hour later we checked into our hotel near the Old City. The City is best viewed from the Mount of Olives. We walked to the Old City through the Dung Gate and stood among hundreds of others—our first of several visits at the Western (Wailing) Wall—and then made our way through the marketplace.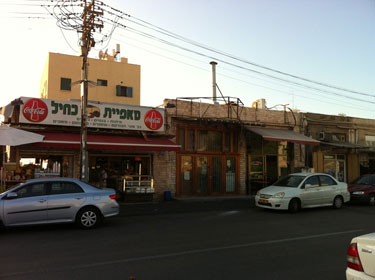 Best hummus in Jaffa
We took a tour of the Tunnels of the Western Wall, an archeological discovery of just four years ago…and wandered through the Arab neighborhood. We devoted an entire afternoon (never long enough) to the Holocaust Memorial / Yad Vashem. To recover, we headed to Tmol Shilshom, a café/restaurant known to all who live in Jerusalem, owned by a former Camp Tawonga counselor and Hebrew scholar. Thank you, David, for your hospitality and great wine!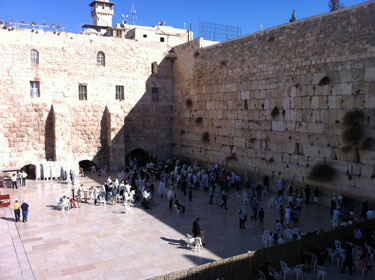 Wailing Wall in Jerusalem (last remaining wall of the 2nd Temple)
The wonders of the digs in Jerusalem, as controversial as they might be, led to the uncovering of the original "Old City", the City of David, just outside the walls. They've discovered physical evidence tying some of the stories of the scriptures to artifacts just unearthed. We continued to the ultra Orthodox neighborhood of Mea Shearim ("100 Gates"), where we observed life in what looks like an old schtetl. Yes, we took no photos. We could not help noticing the billboards condemning the existence of a Zionist state.
We walked through the open markets—the Shuk Machane Yehuda. Incredible, really, for any foodie. If you're lucky, as we were, you'll dine at restaurant Machne Yehuda (Balkan Beat Box piped in.)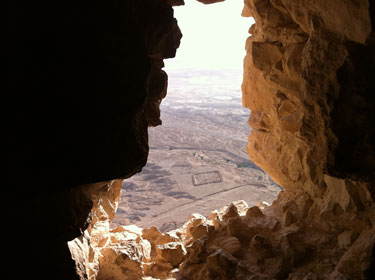 Atop Masada, overlooking a Roman camp
We headed south to the town of Arad in prep for our morning assent of Massada, King Herod's creation which served as the legendary last stand of the Jews who had escaped the Roman conquest of Jerusalem…to die atop this fortress above the Negev Desert.
Adjacent is the Dead Sea, where we landed on Mineral Beach near the town of Ein Gedi. Spas and resort hotels are plentiful, all giving new meaning to "mud baths". Custom is to coat oneself in mud and float—like it or not, you'll float—in the saltiest and lowest body of water on the planet, the Dead Sea. Cold showers in the hot sun are handy to get cleaned up!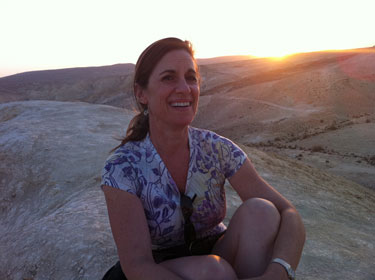 Sunset in the Negev Desert
A short drive to the waterfalls and hiking trails at Ein Gedi, this oasis in the Desert is spectacular. We continued past Sde Boker, the kibbutz and home to Ben Gurion during the last 20 years of his life. We caught the sunset at Bar Chavarim atop its mountainous view. Remote as these places seem, Israelis travel the short distances from the City to frequent these respites. In the tiny town of Mispeh Ramon, we had one of our finest meals at the very French and trendy Café Eugene.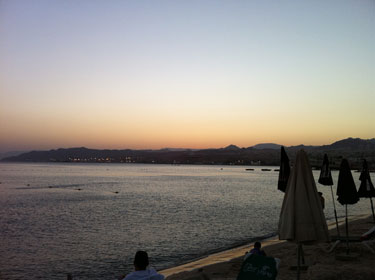 Eilat on the Red Sea
From the Dead Sea to Eilat at the Red Sea, along the borders of Egypt, Jordan and Saudi Arabia…a gorgeous drive. At last, a bit of beach combing and a couple of days in a chaise lounge. Eilat is experiencing explosive growth, with all of the trimmings of resort seaside life. Move over Cozumel. This is the Great Barrier Reef of Israel.
It wasn't enough to watch the sunset over the mountains of Jordan; we planned to cross the border and make our way to Petra, the ancient ruins. The border crossing was just a 5 minute cab ride away.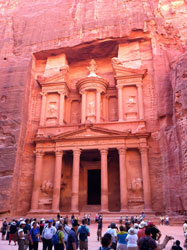 The Treasury (think Temple of Doom) in Petra, Jordan
Most of us know Petra from the scenes from Raiders of the Lost Ark. The "Treasury", as it's known, is the most notable of the 3,000 caves carved into solid rock. Thousands of Bedouins lived in these caves, well into the 1980s. Now, of course, the place is crawling with tourists; camels, donkeys and carts taking travelers around the historic site and up the mountainous territory to the Monastery and other peaks. Be prepared: we hiked over 20 miles around Petra during our two-day visit.
We covered a lot more territory in Israel afterward, throughout the Golan Heights to Rosh Hanikra to Haifa. There's a lot more to tell…if you're interested. Just let me know.
Please note: We provide Bay Area market data and analyses for the current year only. To request commercial real estate market data for previous quarters, please contact us.
Who Has the Most Incentive to Drive Up Rental Rates In San Francisco?
When we approach a prospective new tenant client, we tell them that we NEVER represent landlords, always avoiding this conflict of interest. So, which of our competitors—leasing firms—do the most landlord representation? Who's marketing the most space in San Francisco?
Below we've surveyed the entire 113 million square foot inventory of San Francisco, and illustrated the Top 25 companies listing the most space on the market. Of the top 8 companies, ALL are office leasing brokerage firms, controlling 65% of the City's vacancy!
These brokerage firms are beholden to more than 350 local landlords, paid to drive up rental rates and drive down concessions for tenants.
Since their allegiance is committed to so many landlords, how can they possibly represent YOUR interests—the tenant's interests—objectively and aggressively?
The top brokerage companies on the list control more of the City's vacancy than Tishman Speyer, Shorenstein, RREEF, Boston Properties and Hines. Surprised, are you not?
% Market Share
Square Feet
# of Landlords/ Buildings

The % in the chart below refers to the percentage of vacant space under exclusive listing by each company. The accompanying figure is the actual square footage available for lease. We have also noted the number of landlords / buildings represented by each entity.

* Denotes listing brokers. All other companies listed are landlords/developers.

1
*Jones Lang LaSalle
11.4%
2,618,494
33
2
*The CAC Group
10.4%
2,400,851
59
3
*Cushman & Wakefield of California
9.4%
2,167,295
60
4
*Cornish & Carey Commercial — Newmark Knight Frank
7.9%
1,821,420
36
5
*CB Richard Ellis
6.6%
1,525,831
27
6
*Grubb & Ellis
6.6%
1,517,032
69
7
*Colliers International
6.4%
1,472,283
78
8
*GVA Kidder Mathews
4.8%
1,104,385
36
9
Tishman Speyer
2.4%
548,459
4
10
Shorenstein Company, LLC
2.2%
499,409
8
11
RREEF America LLC
1.9%
447,892
2
12
Boston Properties Limited Partnership
1.8%
408,035
4
13
Hines
1.5%
353,928
8
14
Beacon Capital Partners, Inc.
1.3%
307,000
1
15
Retail West
1.0%
241,068
1
16
McCarthy Cook & Co.
0.9%
198,907
3
17
The Presidio Trust
0.8%
194,881
44
18
*TRI Commercial / CORFAC International
0.8%
178,144
56
19
*Cassidy Turley BT Commercial
0.7%
161,810
21
20
*Johnson Hoke Ltd
0.6%
133,434
8
21
*Polatnick Properties
0.5%
117,900
22
*Starboard TCN Worldwide Real Estate
0.5%
116,036
53
23
JRT Realty Group, Inc.
0.5%
104,149
1
24
*HC&M Commercial Properties, Inc.
0.4%
99,318
16
25
*Blatteis Realty Co. Inc.
0.3%
76,056
47
Total
23,023,817